Indian Groom Wear and Outfits
FILM BY LIFESTORY.FILM
While Indian weddings are famous for their decadence and splendor, it is not just the Indian bride that gets to shine. A Hindu groom traditionally wears a sherwani, a lavishly embellished version of a western suit.
Overall, Indian groom wear and outfits showcase a variety of colors and designs that pair with matching, handcrafted, embroidered shoes, called mojri. Across India and even in the west, wedding menswear can vary by the region and religion of the groom's family.
Punjabi Groom's Wedding Attire
While traditional Sikh grooms are required to sport a full beard to express their faithfulness to
the Sikh religion, they can choose to stay clean shaved for the wedding day. Another Sikh
tradition is for the father of the groom to tie a saafa (turban) on his son's head. Likewise, the
groom's sister ties a sehra (ceremonial floral veil) to the groom's forehead. She may sometimes add a feather to the center of the saafa. Then, a red chunni (scarf) is added.
Punjabi grooms must also carry a kirpaan (sword) throughout his baraat (procession) until the actual wedding ceremony starts. He completes his festive outfit with mojris. Mojris hail from North India and Pakistan and therefore are predominantly used in weddings of couples from those areas.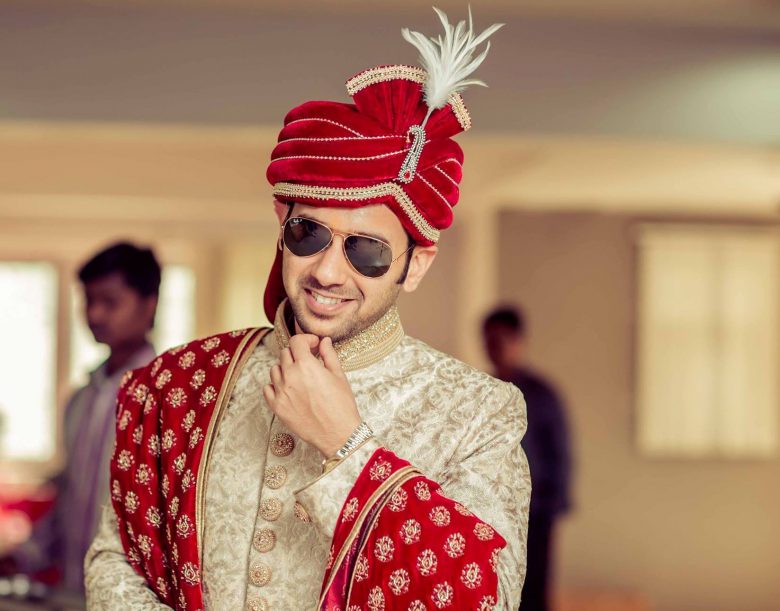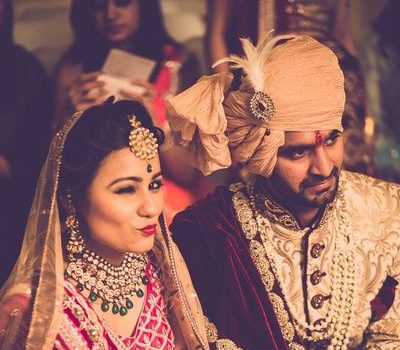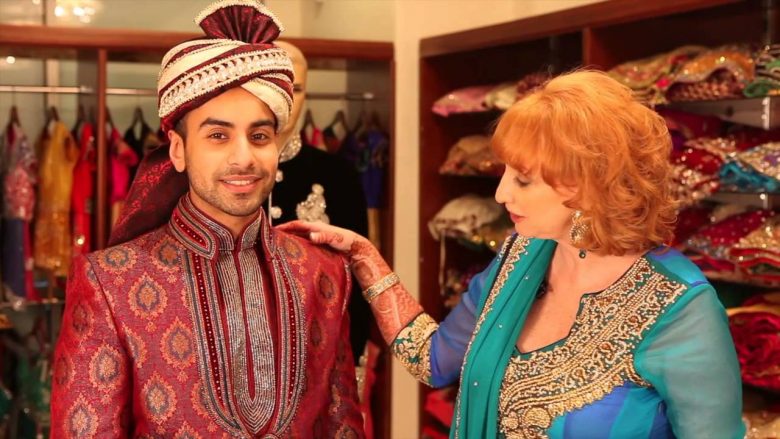 Hindu Groom Wedding Attire
Depending on where in India their family is from the Hindu groom will wear any of a number of different looks. In addition to sherwani, the options include: tightly fitting chudidar trousers, loose fitting kurta pajamas, a form fitting and formal jodhpur suit, pathani coats (a variant of kurta pajamas) and dhoti - a garment with a piece of material tied around the waist and extending to cover most of the legs.
If the groom wears a shwewani, guest can expect to see a heavily embroidered jacket that reaches the knees paired with tight fitted pants. This outfit is typically worn with a turban and a chunni (long scarf). Unlike the turban a Sikh groom wears, though, a Hindu groom wears a pre-tied one.
A sehra (head dress) may also be worn by the groom depending on the region the groom's family hairs from. Additionally, an Indian groom is often decorated with jewels, strands of pearls, gold, or flower garlands.