VILLA FRANCESCA
Wedding venue in Malibu
The Lovely Villa Francesca sits on a private gated bluff, above the sparkling pacific ocean. These immaculate 5 ocean view acres have hosted many weddings, film shoots and vacations. Lush lawns and gardens complete with white balustrades, provide a dramatic back drop for Romantic weddings and parties.
Location
Wedding venue
Malibu California, USA
The stone pathways meander along the full 180 degree ocean view perimeter of the property. Cobblestone walls, statues and mature sprawling palm trees make the already pristine grounds warm and inviting. Upon entering the private gated compound you are greeted by a lovely Italian fountain complete with authentic Italian tiles. A wonderful place to begin your event. Then there is parking for 6 cars above on site and an additional 35 spaces may be rented directly below the property, in a safe private lot. The owners, brought with them from Italy.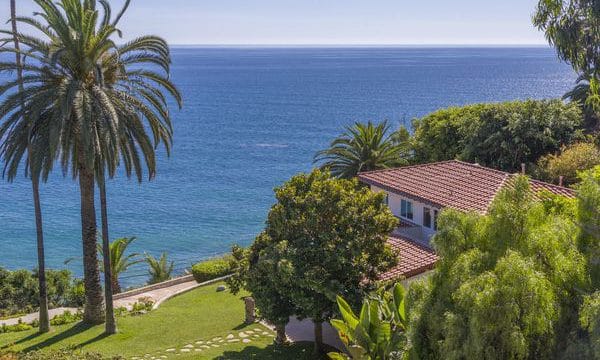 The final word in Romantic Weddings.
For a small gathering of 20 people to a lavish 200 person wedding…this lovely estate can accommodate your needs. This property is the perfect backdrop for any type of event or film shoot. It has hosted photo shoots for Guess, Ferragamo, Bazaar and Glamour Magazines, Miss World and Shazaam, plus many films and catalogue shoots. Parking for 40 cars and easy location in east Malibu, near to Santa Monica. No Air Conditioning.