Wedding Reception Timeline
FILM BY LIFESTORY.FILM
Your wedding reception will be one of the biggest and most exciting nights of your life. You can ensure that you and your guests have the best and most memorable experience by having a clear and solid timeline. We have assembled a sample wedding reception timeline and some other helpful tips to help you get started:
Guests Move From Ceremony into Cocktail Hour | 1 Hour
The best time to do your couples session and formal family photos is when your guests are mingling with each other following the ceremony. While the bride and groom typically don't attend the cocktail hour it's a lovely time for your guests to relax and enjoy appetizers and drinks before heading into the main reception.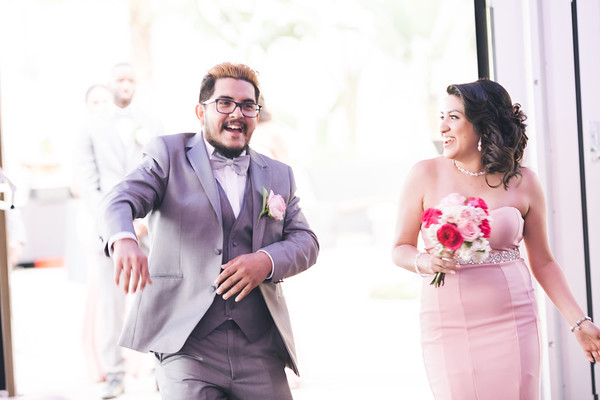 Guests Are Seated in Reception Hall | 15 to 20 Minutes
Following cocktail time, your wedding coordinator or master-of-ceremonies will round up your guests and get them seated in the reception hall for the big party. During this time they can make any special announcements you'd like, such as how to find their seats or where the photo booth is. How long this process will take is dependent on the number of your guests (and how they listen) but it's an essential part of your wedding reception timeline.
Wedding Party Entrances | 5 to 10 Minutes
At this pivotal point in the wedding reception order of events, your disc jockey or master-of-ceremonies will announce the family and wedding party entrances. This is a fun and upbeat time for your wedding party and/or immediate family members to enter the reception in a playful manner. Their entrance will set the stage for your own.
Bride and Groom Grand Entrance | 5 to 10 Minutes
Get excited! This is your moment to be celebrated and introduced as the newly married couple. Choose your favorite party song and strut your stuff. Do make sure that your entrance is clearly delineated from the other wedding party entrances on your wedding reception timeline so that you can have your special moment to shine.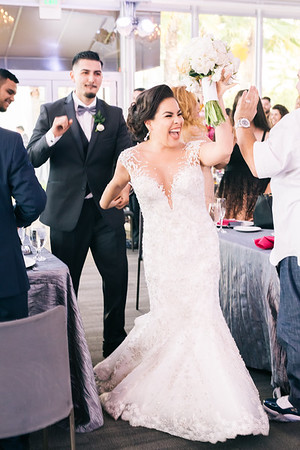 First Dance | 5 to 10 Minutes
While all eyes are on you due to the grand entrance, this is a perfect time to go straight into your first dance as a married couple. Like your entrance, this is another special moment to sparkle, so enjoy it to the fullest.
Welcome Speech | 5 to 10 Minutes
After the dance you and your spouse will migrate to the head table and welcome your guests for with a short speech. This speech can also be done by the mother and father of the bride. It's also the perfect time for a blessing over the meal by a family or clergy member if you choose
Dinner is Served | 1 Hour
During the dinner hour, do not forget to eat. You'll need nourishment and energy for all the photos and fun ahead. In fact, we suggest you eat first before making your rounds to each table. Allow yourself at least 3 minutes per table and adjust your meal time accordingly.
Once you've visited each table and while your guests are finishing their meals, it's a good
moment on the timeline for toasts.Traditionally, toasts begin with the Best Man and Maid of Honor, followed by anyone else you have asked to toast. If you or your spouse didn't give the welcome speech before the meal, this is also a nice time to thank your guests for coming to share your special day.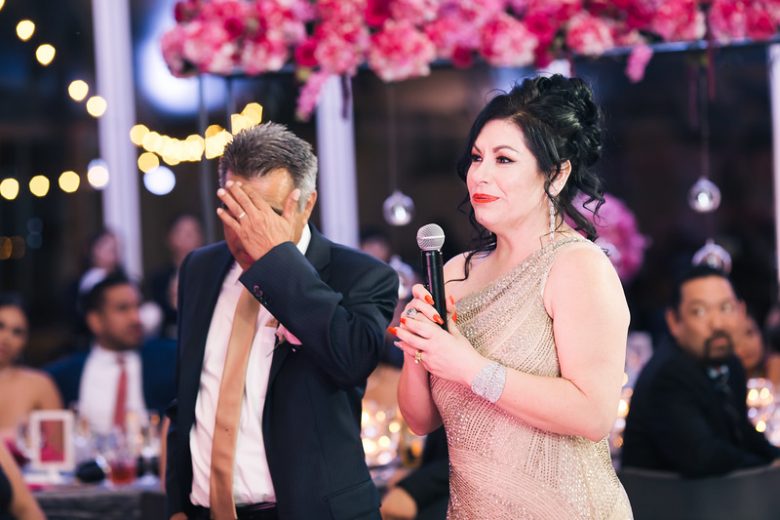 Family Dances | 15 Minutes
After toasts it is the ideal moment on the wedding reception timeline to begin the dancing portion of your party. Have the dancing commence with the mother and groom and father and bride dances. At the conclusion of the last family dance, have your disc jockey ask your guests to come to the dance floor for a group photo. This request gets everyone up and on the dance floor so when the music begins there's a great crowd waiting.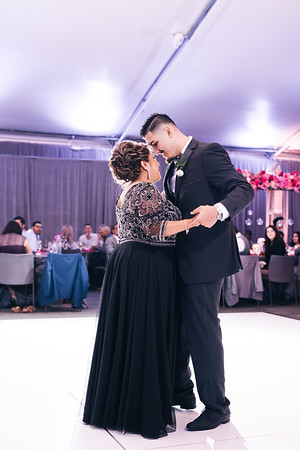 Open the Dance Floor | 30 to 45 Minutes
It is power dance session at this point on the wedding reception order of events. Begin with high-energy songs that will get everyone in the room moving. Interlace slow songs between bursts of octane songs. This is also an ideal time for your garter and bouquet toss, or any other fun activities you have planned on your wedding reception timeline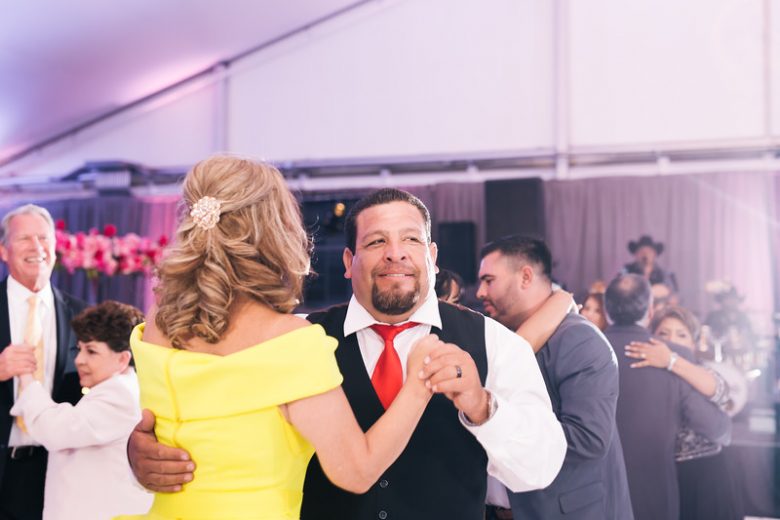 Cake Cutting & Dessert | 30 Minutes
The cake cutting ceremony signals to your guests that the party is wrapping up. This important part on the wedding timeline can be done about an hour before your grand exit or the end of the reception. Have your disc jockey play some slow to mid-tempo songs after you cut the cake and while your guests enjoy it. This is also a good time to again thank your guests for coming.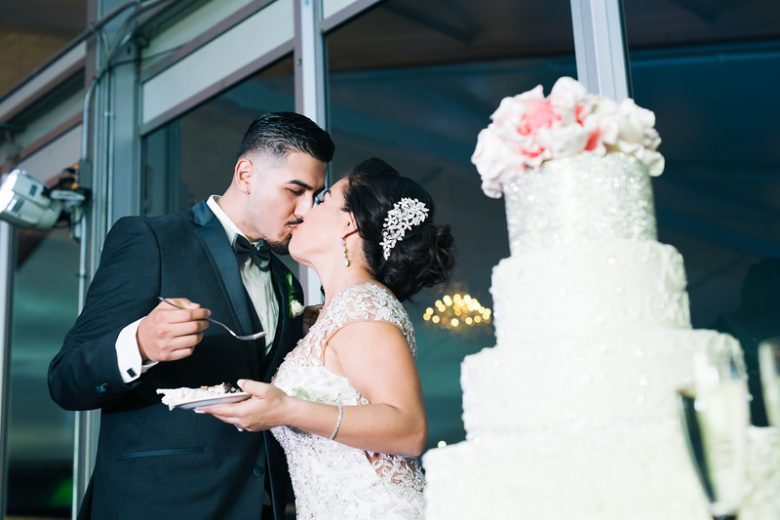 Reception Sneakout Photo Session | 20 to 30 Minutes
Your sneakout photo session can be done during the last dance set and after dessert. This photo session is a very important time to schedule with your photographer on your wedding reception timeline. These photos will be the romantic nighttime shots that showcase the perfect end to your beautiful wedding day and beginning of your life together. Make sure to return for your last dance, though!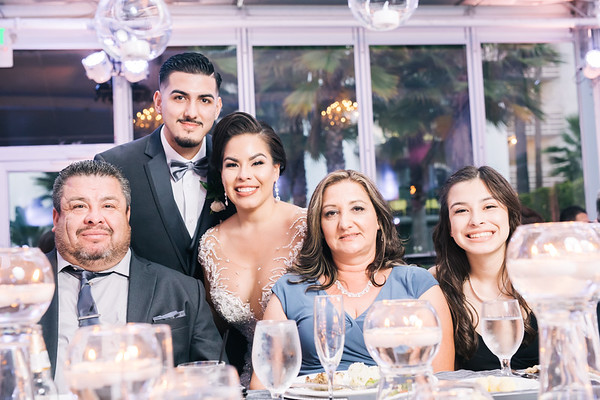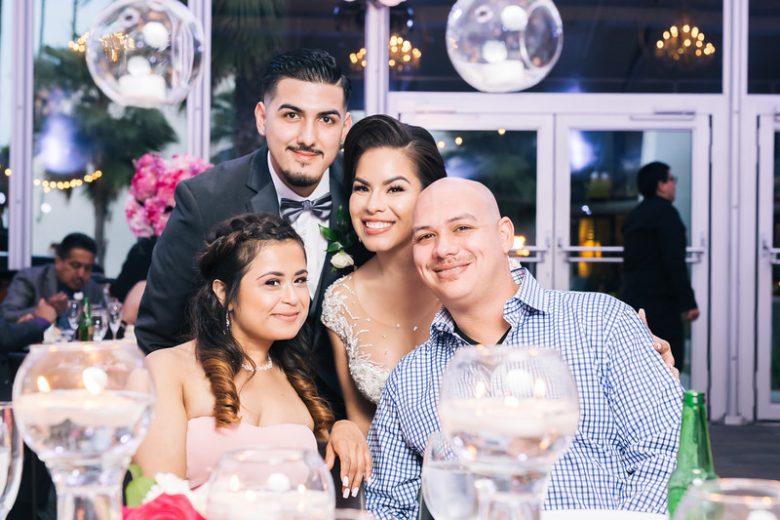 Keep the Party Going | 30 to 40 Minutes
Following dessert, it's time to keep the dance party going for your guests. On your wedding reception timeline, the last dance set will simultaneously coincide with your nighttime photo session. Make sure to have your disc jockey announce when he is playing the final song so your guests know this is their last opportunity to dance. Select an upbeat, big hit that will get everyone out on the dance floor to close the party down.
Grand Exit | 10 to 15 Minutes
Following the final dance, have your announcer invite everyone outside for you and your spouse to make your grand adieu in your getaway vehicle. The wedding timeline is over and now it's the honeymoon; written totally by you and yours
We can create the same photo for you! Check out our website LifeStory.Film
We do Videography and Photography in Los Angeles, San Francisco, San Diego, New York, Chicago, Las Vegas