How to Tie a Bow Tie: Easy Step-by-Step Instructions
FILM BY LIFESTORY.FILM
Everyone loves a bow tie and there are a myriad occasions that call for one. Whether it's an extravagant wedding or a semiformal dance, these butterfly-shaped accouterments allow men and women to express their unique style and character. When paired with a formal tux, bow ties offer a refined and sophisticated look, or they can add zest to a vest or jacket for more laid-back occasions. Some brands offer clip-on or pre-tied bow ties, but chances are, you'll prefer to tie your own so you have a greater selection to choose from. While the process of tying a bow tie may seem overwhelming at first, our step-by-step instructions make tying a bow tie quick and painless.
What Type of Bow Tie to Choose
Bow ties are acceptable choices for white-tie and black-tie events. However, for these very formal occasions only white and black bow ties are appropriate. You can experiment with color and texture at semiformal affairs. These events are still somewhat formal, though, so avoid loud patterns and bright colors. It's OK to select plaids and tweed bow ties for semiformal affairs as well. When it comes to bow tie creativity, free to go all out with colors, patterns and more for casual events.
Varieties of Bow Ties
There are five common types of bow ties: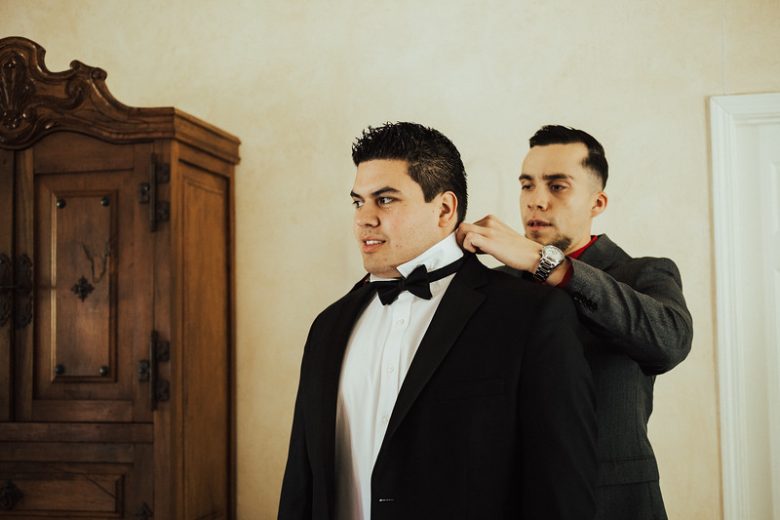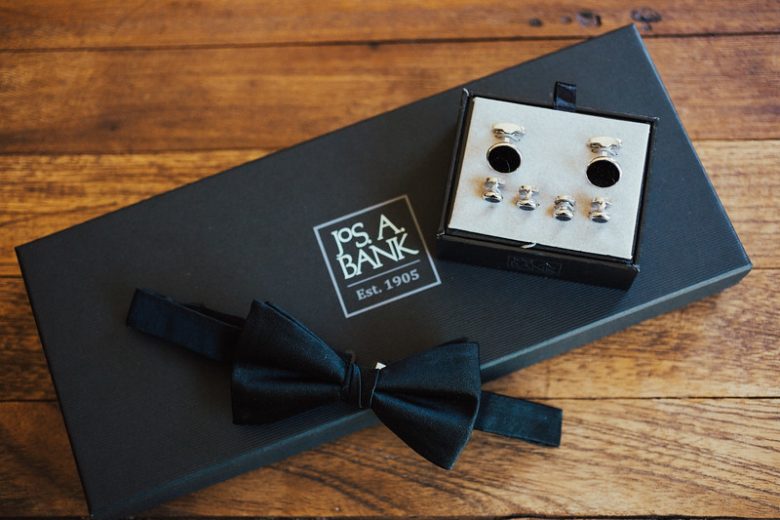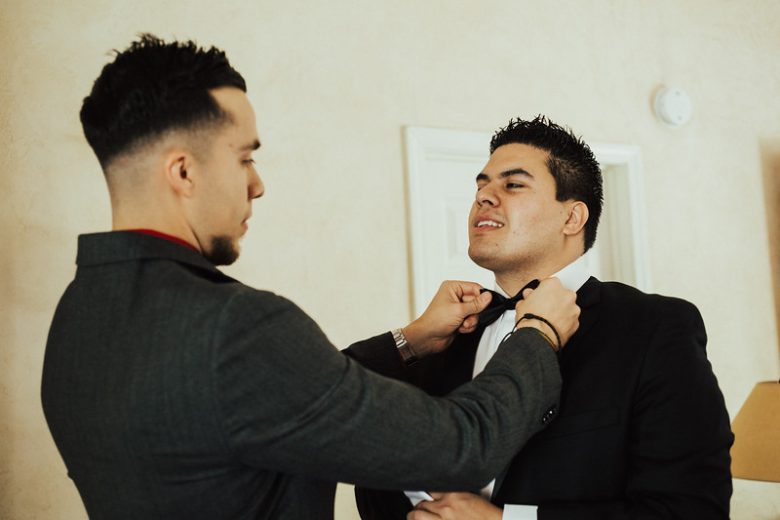 Standard butterfly bow tie:
Also called a thistle tie, this type of bow tie can be found in the men's department of many clothing stores. It features wings that measure between 2.25 and 2.75 inches. It is a classic tie that compliments any facial structure and is a nice choice for formal occasions, especially in solid neutral colors like white, black, gray or navy.
Large butterfly bow tie:
The large butterfly bow tie looks best on people with a wider neck and facial structure. It features wings that measure 3 to 3.5 inches. Since it is so large, it should be worn in solid colors only for a formal event. If worn to a casual event, bold prints and colors are acceptable.
Batwing bow tie:
With narrow wings measuring 1.5 to 2 inches the batwing bow tie looks best on people with a thin facial structure and collar size. While some prefer this thinner style for formal occasions, others feel it's not formal enough due to its size. It all comes down to personal
preference.
Diamond point bow tie:
The diamond point bow tie boosts stylish diamond points at the ends. It
offers a unique asymmetrical appearance for formal events. This type of tie comes with wings of varying heights.
Rounded club bow tie: Also available in varying size, this rounded club bow tie features unusual rounded ends. It's often preferred by people who like to stand out in the crowd.
Sizing a Bow Tie
Sizing a bow tie properly hinges on selecting the correct size. Many bow ties come in one-size-fits-all, but others have adjustable features like buttonholes or sliders. If you want to measure neck size, place a well-fitting dress shirt on a flat surface with the collar lying flat. Next, use a sewing measuring tape to find the number of inches from the center collar button all the way around the collar band. This action determines neck size, and bow ties should be adjusted to match.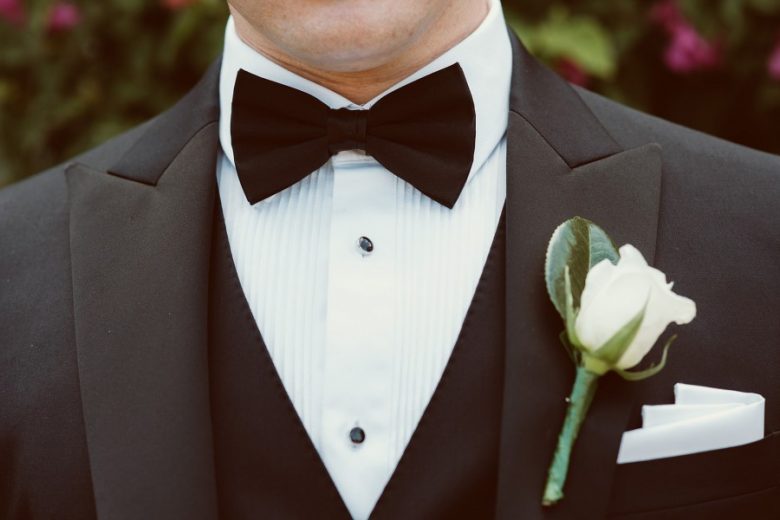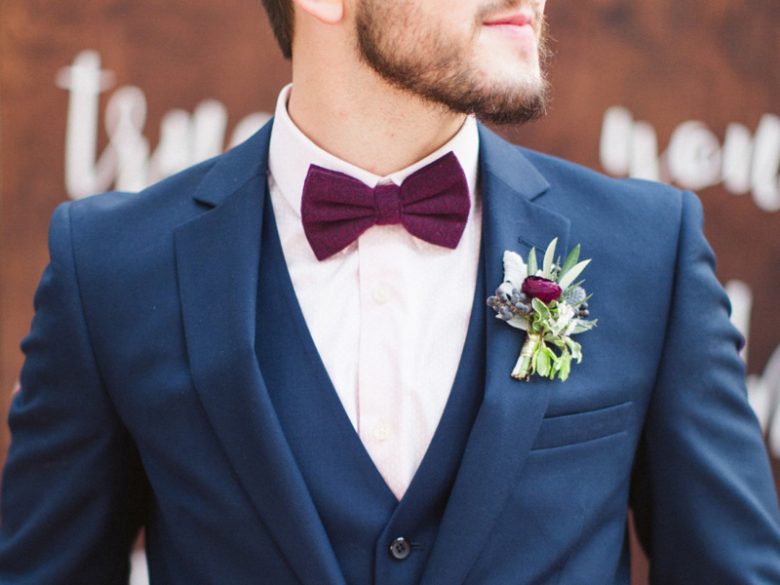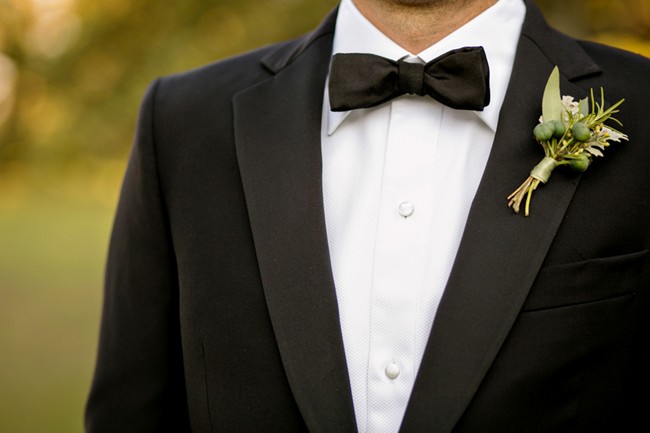 Practice Makes Perfect
To learn how to tie a bow tie need a tie, you need a dress shirt or tuxedo shirt, mirror and patience. There are nine simple steps needed for tying a bow tie. Once you've practiced these steps several times, the process becomes a breeze.
1. Put the shirt on and button it to the top. Stand in front of a mirror with the bow tie in hand. Drape the bow tie around the neck, making sure that the right end falls about 1.5 inches lower than the left end.
2. Grasping both ends of the bow tie, cross the longer end over the shorter end.
3. Thread the longer end up through the neck hole. You can adjust the tightness of the tie for
a comfortable fit.
4. Put the longer end aside by flipping it up over the shoulder. Then, double the shorter end at the widest part so it resembles a bow and lies sideways across the collar.
5. Holding the bow shape with one hand, take the other end and pull it down over the center of the bow shape with the other hand. The tie should now resemble a bow tie from the
front.
6. Bring the sides of the bow together in front with one hand; pinch and pull. This creates a hole behind the bow.
7. Make another bow with the longer end of the tie by doubling it like the first bow, using your other hand.
8. Now push this bow through the hole.
9. Pull on the folded ends of each bow to tighten the knot of the bow tie. Gently tug at the folded ends and adjust the flat ends to make sure both sides are even. Adjust your collar if needed. Voila! You've tied a bow tie.
In closing, whether for a casual or formal occasion, bow ties allow you to make a unique and personal fashion statement. Learning how to tie a bow tie is a process worth knowing.