Engagement Session Wardrobe and Makeup Guide
PHOTOGRAPHY BY LIFESTORY.FILM
Wardrobe Guide – What To Wear For Engagement Photos
When selecting what to wear for your engagement photo session, the most important factor is your personality. While we will have specific recommendations depending on the location that you choose, showcasing your unique personalities as a couple is key. This takes planning and thinking ahead. The more time and thought you spend selecting a wardrobe for your photo shoot, the happier you will be with the results. If you leave the decisions and details to the last minute you will wind up with stress on the day of the photo shoot. We are always available to consult with for options on clothing, colors and accessories.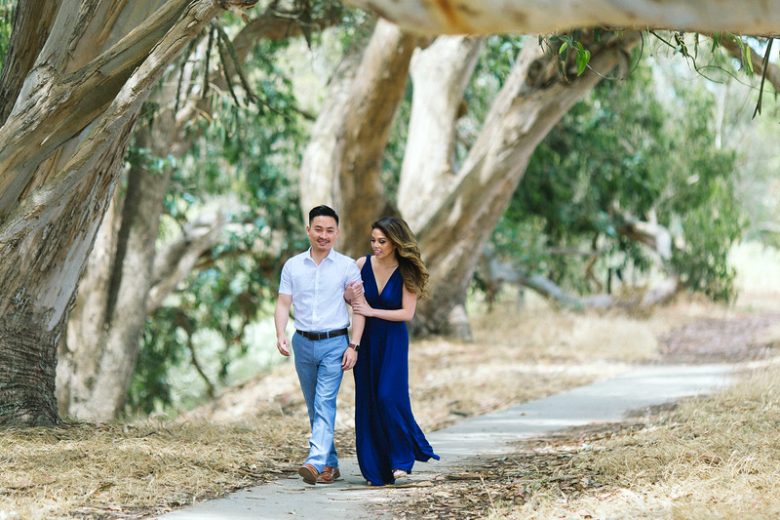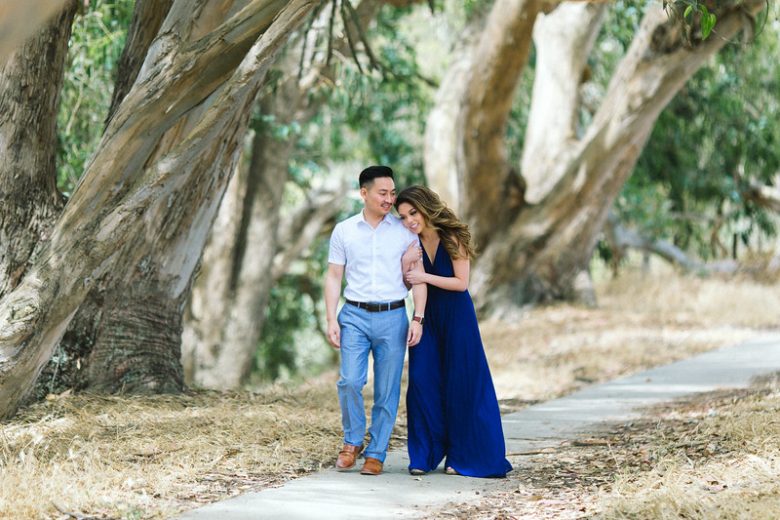 Dress: Solid colors are the way to go for engagement photos. You will want to avoid stripes and patterns since they draw attention away from your face and the expressions on it. Also, try to avoid wearing turtlenecks and oversized loose clothing, as these choices often make the neck look nonexistent, chin doubled and body wider than it is. Along the same lines, shorts or capris tend to make legs appear stubbier than they are. In general, you should bring at least two to three different outfits to the shoot so we have plenty to work with.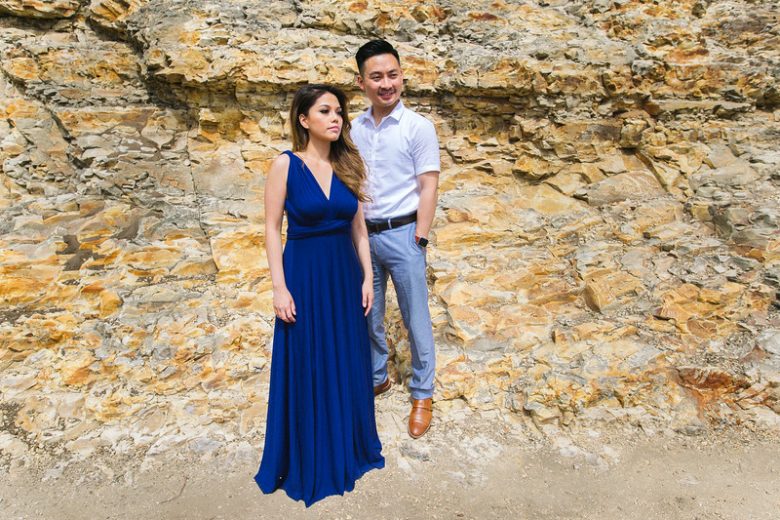 Colors: While solid monochromatic colors are easiest to coordinate, primary or complementary colors also look great in engagement photos and add energy. You may want to consider that darker colors will cause you to appear thinner and lighter colors potentially larger. For a portrait, dark pants or jeans with dark shoes visually anchor the shot. Often forgotten is how the colors you choose will look on your wall; when choosing colors, consider not only what looks best on you, but will complement your home's décor.
Accessories: When it comes to accessories the best advice is to keep it simple. There's no need
for hats, hair ornaments or costume jewelry that will distract from the main subject: you.
Footwear: What you wear on your feet is important in engagement photos. Avoid sneakers, white socks, and clunky footwear. This is not to say you can't be unique - fashionable boots, sandals or bare feet are fun for casual photos.
Props: Props are a great way to showcase your personalities in your engagement photos. For help selecting props please contact us.
Makeup Guide – How to Do Your Makeup For Engagement Photos
While a professional makeup artist is not a necessity for engagement photos, professional makeup tips can be very helpful. Keep in mind that even if you prefer a natural look, the camera tends to exaggerate flaws and create synthetic ones. That's not something any of us want, but are all vulnerable to. Thankfully, these camera-friendly makeup tips will enhance rather than detract from your looks. When thinking about makeup and photos, it is important to understand that images are two-dimensional. Therefore, shadows and highlighted areas may need to be emphasized, de-emphasized or even replicated, for the best overall effect.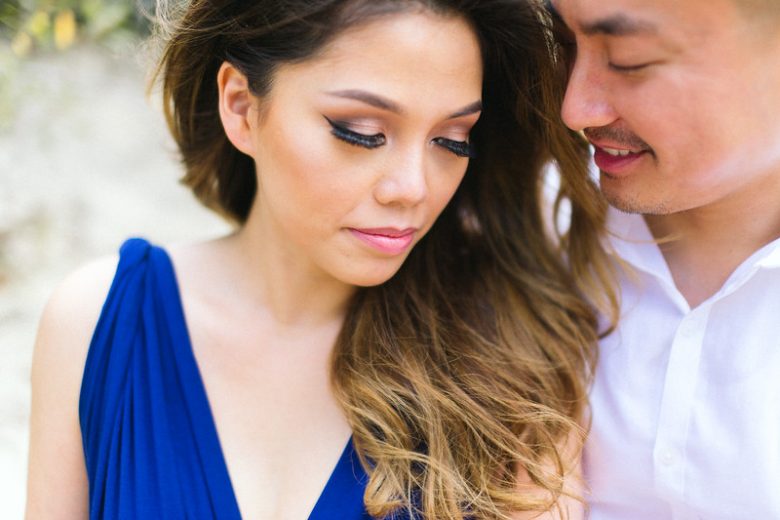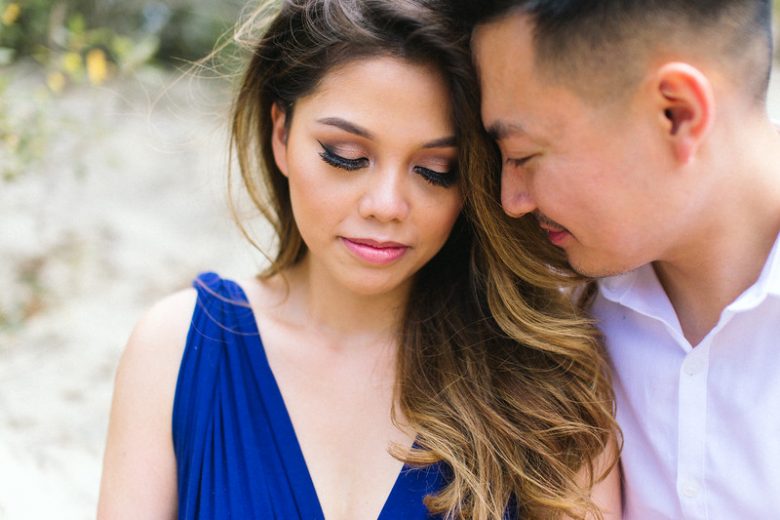 Skin: Your skin is your canvas. Before you even begin to apply makeup, make sure your canvas is smooth, toned and moisturized. One way to achieve this is with an at-home or spa facial or scrub treatment beforehand. This will minimize uneven or artificial-looking makeup application and give you a healthy, glowing look in your engagement photos.
Minimize Shadows: A camera can age the subject by enhancing dark, fine lines, and wrinkles. To out-smart the camera, gently apply a lighter shade of concealer to darker areas like under the eyes and smile lines. Then, using an upward stroke, apply a light layer of foundation makeup over the face including lips. It's important to blend the makeup at the edges. When choosing your foundation colors try to find makeup that matches your natural skin color as closely as possible.
Blush and Bronzer: Blush is nice because it can help you achieve many makeup effects. To apply powder blush, blow off the extra and apply gently to cheekbones. Also apply the blush above the outer corners of eyes to the temple. A darker shade of blush applied under the cheekbones produces a more sculpted look. Bronzer makeup powder offers a natural or lightly sculpted look, depending on its application. It can be applied to the sides of the nose to minimize width.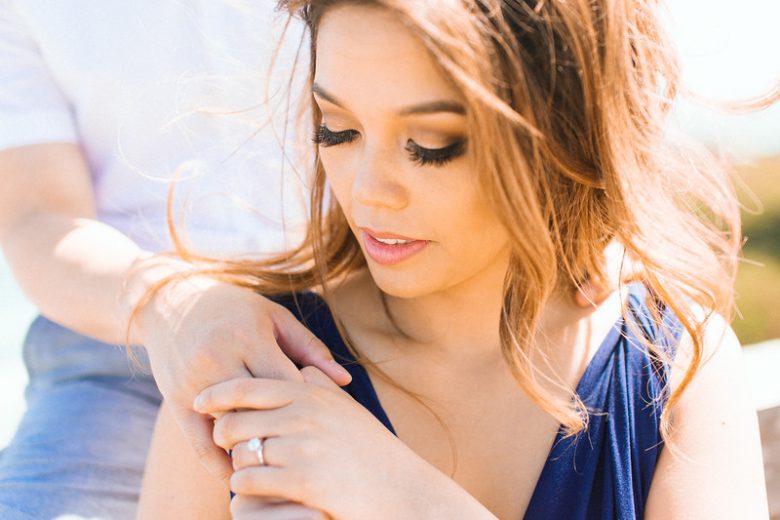 Eyes and Lines: It's typically best to avoid harsh lines or the raccoon look in your engagement
photos as it makes the eyes look smaller and deeper set. The best look for engagement eye
makeup tends to be a smoky colored eyeliner pencil smudged a bit if necessary. Liquid eyeliner is also a viable option. If you go this route, dot the eyeliner next to the eyelash base rather than create a solid line. To try a different look, limit liquid eyeliner application to the top eyelid and/or the outer corners of the eyes only. Smoky eye shadow applied above the eyelids and blended with the outer corners of the eyes also creates a desirable effect. Darkening your brows will also help showcase your eyes. To soften makeup lines, gently wipe the lid and brow area once or twice with a powder makeup brush dipped in light pink blush.
Lips: When it comes to makeup for engagement pictures, most lips benefit from definition, even when lipstick is not generally used. Pick a shade or two darker than your natural lip color. Then, apply lip pencil, smudge your lips a bit and use a little gloss or lipstick. This will give you a natural but polished look. If you apply a lighter lip color or gloss only to the center of the lips it will give you a pouty look.
Powder: Although we will make you shine in your wedding photos, you don't want your skin to shine in a distracting way. Avoid facial shine by applying a light dusting of translucent powder over your face. This will also help set your makeup. Concentrate on the central part of your face (forehead, nose and chin) and apply limitedly to lined or dry areas.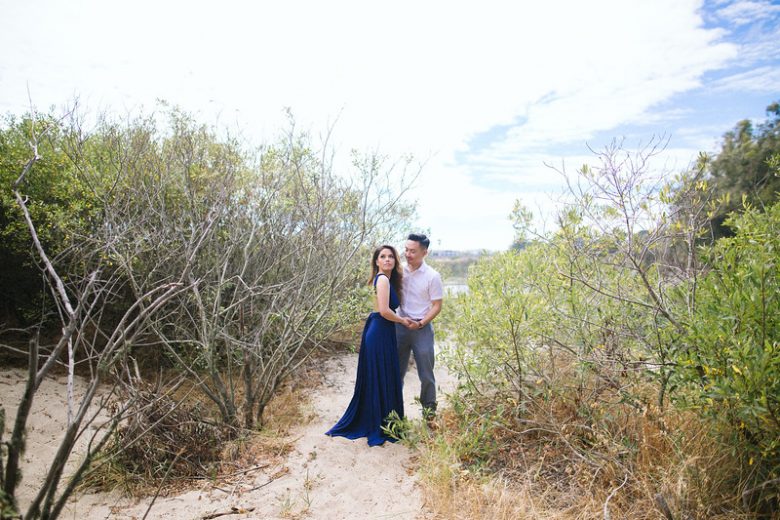 Eyebrows: Eyebrows can affect your facial expression for better or worse. Before applying your makeup for engagement photos, be sure your brows are properly shaped. This is often best left to a professional. When it's time to use your eyebrow makeup, align a pencil vertically along the edge of nostril and inner corner of the eye. Do the same for the outer corner of the eye. Should the eyebrow arch needs help, align the pencil with the edge of the nostril and the outer edge of the iris to determine the highest point of the arch. You can tweeze stray brows outside these areas and use an eyebrow pencil for even more definition. However, use caution as it is best to avoid significant tweezing just prior to applying makeup and before an important occasion like engagement photos.
Red Eyes: We will make sure there are no "red eyes" in your photos, but to brighten the whites of your eyes and minimize redness line your inner lower eyelid with a light blue eye pencil.